Philadelphia, Pa., September 26th, 2011 – Casa de Venezuela will present its third annual exhibition Diálogo 365, "Freedom, Liberty and Independence," beginning October 7th, as part of a series of events celebrating Venezuela's Bicentennial of Independence.
Ever since its first edition in 2008, Diálogo 365 seeks to promote and collect Latino, Latin American and Caribbean art work from local emerging and established artist.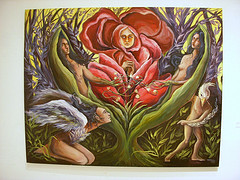 "A while back, we noticed that there were no Latin American art exhibits featured and we saw this as a chance to promote not only Venezuelan culture but Latino culture in general, offering an opportunity to those Latino artists in the region," says Ruben Reyes, vice president of Casa de Venezuela.
Exhibits such as Diálogo 365 not only serve as a mirror to our society but also looks at the potential of a multi-cultural society. The Census 2010 stated that the Latino community, as well as other immigrant and minority groups, have grown in the last 10 years and will continue to expand rapidly. The population in United States will be a lot more diverse and multicultural by 2050 than it is today.
Therefore, Diálogo 365 is an opportunity for those interested in knowing more about Latino, Latin American and Caribbean art as well as its history, culture and traditions. This exhibition is a platform of expression artists, but it is also a space for the public at large to converse about subjects that affect us individually and collectively – economics, health, employment, immigration, politics, human rights, etc. Thus the name Diálogo 365 ("diálogo" in Spanish means dialogue).
The exhibition will take place on October 7th, First Friday, until the 27th at two different locations: the Crane Arts on 1400 American Street and the Old School Crane Arts on 1417 North Second Street in Philadelphia. A reception will be held on October 13th from 6 p.m. until 9 p.m.
This year, Diálogo 365 counts with the expertise and extraodinary artistic trayectory of artist Anabelle Rodriguez, who is the curator for the exhibition and the leading force behind a group of nearly 30 artists. To access her biography and for more information about this event, please visit www.dialogo365.com.
The list of artists participating in Diálogo 365 is as follows:
Adrian Abonce (Colombia)
Susana Amundarain (Venezuela)
Daphne Arthur (Venezuela)
Henry Bermudez (Venezuela)
Simon Bolivar (Venezuela)
S. Damary Burgos (Puerto Rico)
Nelson Caban (Puerto Rico/EEUU)
Cristina Eguiluz (Argentina)
Bruno Garcia (Venezuela)
Micah Gaugh (Panama/EEUU)
Blanca Gruber (Venezuela)
Tlisza & Marcus Jaurique y Zilliox (Mexico)
Jane Madrigal (Mexico/EEUU)
Michelle Marcuse (South Africa)
Paula Meninato (Argentina)
Doris Nogueira-Rogers (Brazil)
Carlos Nuñez (Ecuador)
Amalfi Ramirez (Venezuela)
Tony Rocco (Colombia/EEUU)
Marilyn Rodriguez (Puerto Rico/EEUU)
Freddy Rodriguez (Dominican Republic)
Marta Sanchez (Mexico/EEUU)
Maria R. Schneider (Spain)
Jacqueline Unanue (Chile)
Victor Vazquez (Puerto Rico)
Cesar Viveros (Mexico)
Mauro Zamora (Cuba/EEUU)