Casa de Venezuela is a non for profit 501(c)3 organization, its mission is to promote the culture, traditions, folklore and roots of Venezuela in the Delaware Valley region, also known as The Greater Philadelphia region, through cultural, artistic, educational, community and social events and programs.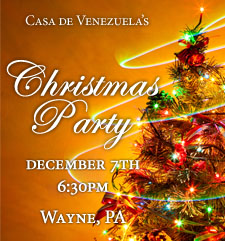 Diálogo 365 Celebrates Liberty and Independence
Philadelphia, Pa., September 26th, 2011 – Casa de Venezuela will present its third annual exhibition Diálogo 365, "Freedom, Liberty and Independence," beginning October 7th, as part of a series of events celebrating Venezuela's Bicentennial of Independence.
Ever since its first edition in 2008, Diálogo 365 seeks to promote and collect Latino, Latin American and Caribbean art work from local emerging and established artist.
Read more...
Call for Artists for Dialogo365
Casa de Venezuela is currently accepting submissions from artists for its 3rd Annual Diálogo 365 exhibition, scheduled to take place October 7-28, 2011 at the TRUST venue in Philadelphia.
Read more...